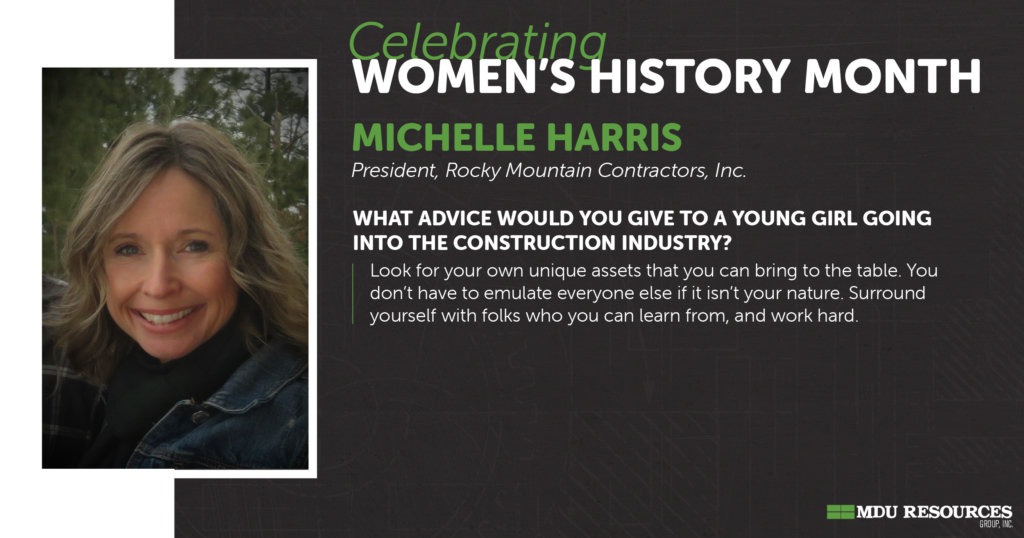 Accounting is the foundation upon which Michelle Harris, president of Rocky Mountain Contractors, built her career. Ultimately, it became the blueprint that would lead her across a variety of industries and landing her in the construction industry in her home state.
Learn more about Michelle and her career.
How did you get started in the contracting/construction industry?
I began my career in public accounting, which exposed me to a variety of industries. I eventually left public accounting to work for Intermountain Gas Company where I learned a lot about the utility industry. This made it an easy transition to my role at Rocky Mountain Contractors, an outside utility line construction company. During my time at Rocky Mountain Contractors, I have been fortunate to continue expanding my knowledge base outside of the accounting arena and into all aspects of the business, including operations.
What or who inspired you to go into this field?
Moving into the construction industry allowed me to live and work in my home state of Montana. I admit to having some self-doubt prior to coming to work at RMC. I wondered if I would fit in and if my skill set would benefit the company. At that time, many family members and friends provided me encouragement.
From the first day at RMC, I felt welcomed by my co-workers. Since then, I have been privileged to have worked with and learned from several mentors who shared their love for the competitive nature of the business and the variety of the job.
What do you like most about what you do?
The best part about my job are the individuals I get to work with. There is a "can-do" mentality in our industry. I am constantly awed by what our people create and how quickly they are able to respond, whether it be to an emergency i.e., a storm or to a change in plans by our customers. I work with incredibly skilled, genuine, down to earth, caring people.
Throughout the MDU Resources family of companies, women fill many roles in the field and in the office. March is Women's History Month, an opportune time for us to shine the spotlight on some of our female employees, their contributions and how they're challenging career stereotypes.