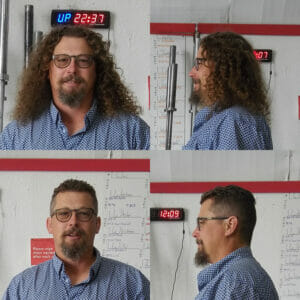 For many of us, our moms are the inspiration for who we are and what we do. This is true for Anthony Stamness, technical lead at WBI Energy Corrosion Services. In fact, his mom is the inspiration for something Stamness has now done twice: grow and donate his hair for kids dealing with cancer or other medical conditions.
In 2017, Stamness' mom talked him into it the first time. "She told me, 'You have beautiful curly hair. You should grow and donate it,'" Stamness said.
Fast forward five years, and Stamness donated his hair again — this time in remembrance of his mom, who died from cancer.
"It [donating hair] took on a whole new meaning after she was diagnosed with stage four cancer in the winter of 2019," Stamness said. "After watching mom go through cancer, it's tough. Mom kept her curly hair. For kids going through this and losing their hair, it's super confusing."
A donation two years in the making
It took two years and two hairbrushes (curly hair is pretty tough on things, according to Stamness) for his hair to reach the preferred length of 14 inches for a second donation in the summer of 2022.
When it came time to cut his hair for the second time, Stamness chose a significant date: Aug. 5, his mom's birthday.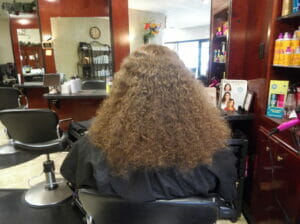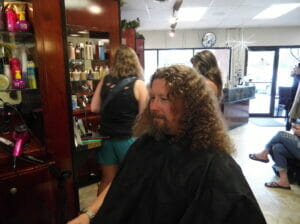 That day, he sat down in the salon chair and got a surprise. When the hairdresser pulled his curls straight, his hair measured 20 inches, six inches longer than the preferred length. With the combination of length, curls and thick hair, Stamness' donation amounted to six ponytails.
"Mom talked me into growing my hair initially because of my curls," Stamness said. "Evidently, girls love curls. So, I'm pretty sure some lucky kid will be really stoked to have those curls."
Both of Stamness' hair donations were made to Wigs for Kids, a nonprofit organization that helps children suffering from hair loss stemming from chemotherapy, radiation therapy, alopecia, burns and other medical causes.
"When they're that young, they're going through their formative years, and this helps give them some normalcy," Stamness said. "The little creature comforts when everything is on fire makes it a lot easier. Some people think it's vanity, but for a kid that young, they don't know what vanity is."
Kinks along the way
Life with long locks presented Stamness with a few kinks along the way. An avid motorcyclist, he hopped on his bike one afternoon with the thought that the windblown look would be good on him.
"After three hours of conditioning and applying detangler, I decided never to do that again," Stamness said.
He also learned a few other things, like the importance of pulling his hair back into a ponytail when working out at the gym. "Otherwise, you're eating your hair all the time," he noted.
And those hot summer days? "Humidity puts that stuff on full frizz," Stamness said.
Perhaps the biggest crimp in Stamness' efforts was to his budget. Before his hair growing adventures, Stamness thought women were nuts for spending so much money on hair care products.
"Boy, was I wrong," Stamness said. "Good product is worth every penny when you have really curly hair. It definitely costs a lot of money to keep that stuff tame, and I didn't know. What a lesson!"
Despite the kinks, crimps and dollars spent on quality hair products to maintain a tangle-free flowing mane, Stamness entertains the thought of donating his hair for a third time.
But he could encounter a new tangle to his plan. "The grey hairs are sneaking up on me," Stamness said.
For anyone interested in growing and donating their hair, Stamness recommends Wigs for Kids. "And don't go cheap on the hair products," he added.