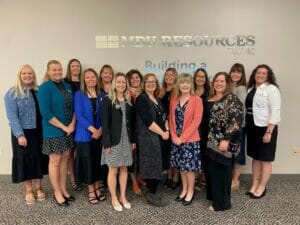 Sixteen employees raised almost $5,000 for poverty programs in the Bismarck, North Dakota, area by each wearing a black dress or outfit for four days in a row. The select attire was part of their participation in the Missouri Slope Areawide United Way's Little Black Dress campaign, a poverty-awareness campaign that raises money for programs benefitting local women and children.
Together, the employees raised $4,800 to support the United Way's Education Initiative that helps women and children overcome the barriers of poverty, facilitating success in school and in life. At the end of the week, the black outfits worn by the participants are donated to the Abused Adult Resource Center's Career Closet, which provides clothes to survivors of domestic abuse.
The 16 employees formed three teams – "Be Audit You Can Be," "Working our Assets off" and "Live Wires" — and represented MDU Resources, Montana-Dakota Utilities and MDU Construction Services Group.