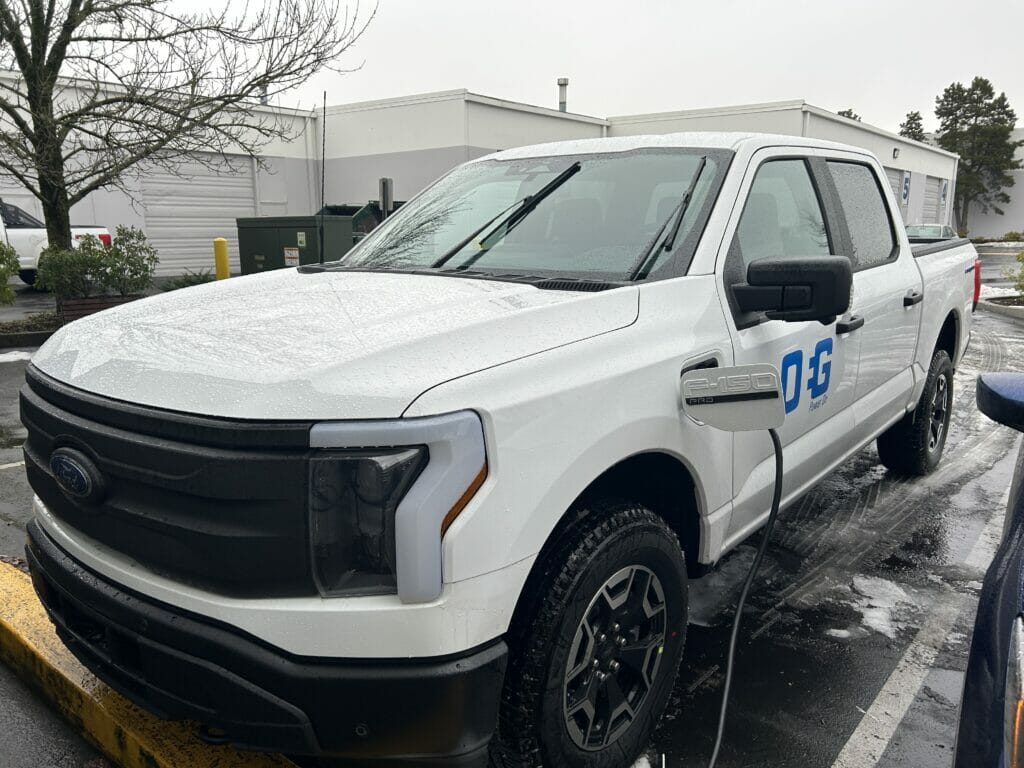 Feb. 21 was a day six months in the making. OEG, part of the MDU Resources family of companies, added a 2023 Ford F-150 Lightning Pro to its fleet, making it the first electric vehicle in the entire MDU Resources corporate fleet. A second Ford Lightning Pro arrived March 9.
"OEG, with its tagline of 'Power On,' is the perfect operating company within the MDU Resources family of companies to pioneer this technology," Scott Senftner, fleet analyst at MDU Resources, said. "And Portland is the perfect test market due to its developed charging infrastructure."
Larry Murray, OEG director of field personnel, worked with Senftner for this noteworthy purchase. Senftner and Murray chose a Ford Lightning with a standard-range battery because it had a faster lead time than a model with an extended-range battery. Thanks to MDU Resources' national Ford account, OEG was able to order and acquire the pickup sooner than the general public. Senftner ordered the Lightning Pro Aug. 29, 2022.
"If the general public were to order the same truck, the wait time would be more than one year," Senftner said. "It's kind of cool just to land one."
Benefits
At optimal performance, the Ford Lightning with standard-range battery has a driving range of 240 miles. Each Ford Lightning purchased by OEG is assigned to a supervisor who will use it as a lighter service vehicle. Their average daily commute range within the Portland, Oregon, area is 40 to 60 miles.
Murray said there will be a 75% savings on fuel alone when using the chargers installed at the OEG office or at the supervisors' homes. If they use a public charging station, the savings will be slightly less.
OEG will also realize maintenance savings, as an EV doesn't require a basic oil change or the use of parts like an air filter, spark plugs and a timing belt. It also has fewer internal fluids to replace.
Preparing for the arrival of an electric vehicle
Before the two Ford Lightnings were delivered, OEG had prep work to do.
"The biggest thing about getting an electric vehicle is installing the charging station or knowing where they are located throughout the city," Murray said.
OEG installed Ford Charge Station Pros, which are fast chargers, at the homes of the two supervisors using the Ford Lightning trucks. The goal is to charge the pickups at night during off-peak hours.
In the company parking lot, OEG installed three ChargePoint chargers. This allows the supervisors assigned to the trucks to charge them when they are at the office.
With ChargePoint's accompanying software, Murray can program OEG's chargers so that the general public can locate them on ChargePoint's national network map and use them. It also allows OEG to charge the public for their power usage.
Positive feedback
Just days after receiving the first Ford Lightning, the Portland area got 10 inches of snow. This didn't prove to be a challenge for the Ford Lightning.
"Brad (a supervisor assigned to one truck) loved driving it in the snow," Murray said. "The Lightning is all-wheel drive and never spun a tire. Overall, the feedback has been great."
Customers are even taking note. One of the trucks is being used at the jobsite of a high-tech customer, where it's been met with fascination and a lot of interest.
"People immediately surrounded the truck and were eating it up," Murray said. "It's a great way to show we're environmentally friendly and on the cutting edge, which is important as an electrical contracting company."
Future plans
The Ford Lightning has been an exciting addition to OEG's fleet. Murray plans to see how things progress with their current EVs and technology as a whole.
"While we don't have an exact plan, we definitely want to grow our fleet of electric vehicles," Murray said. "Electric vehicles are the future. I can see benefits of electric vehicles for commuter vehicles and service vans, for example. They might not be for everybody right now, but we want to get ahead of the curve."