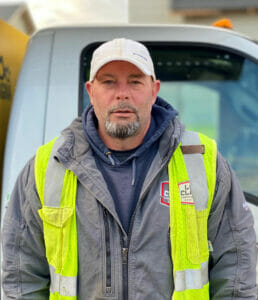 Hoffman Construction recently honored Brett Jerome with its GUTS Champion award for actions he took at a Corvallis, Oregon, job site that likely prevented a serious injury.
Jerome, foreman fuser with Loy Clark Construction, was at Oregon State University Reser Stadium to install gas service to a new building. A different subcontractor had vacuum excavated the area around the riser so Jerome and his crew could access it.
Jerome noticed that the excavation was too close to a base plate that was part of a six-story scaffolding structure along the face of the building. He immediately notified the Hoffman Construction superintendent and said he could not let his crew work in the space. Hoffman employees quickly shored up the hole to eliminate the hazard.
Hoffman Construction Superintendent Butch Riley praised Jerome for his actions.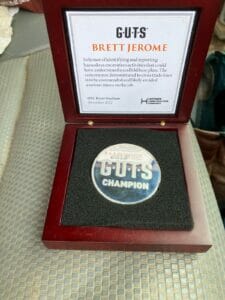 "Brett not only cared about the schedule and production of his team but put safety for his team and those around him first," Riley wrote in an email. "It takes a special person to see a safety issue and have enough guts to say something."
Jay Davis, contract manager supervisor with NW Natural, said in an email that he commends Jerome for leading by example. He emphasized that everyone has the right to stop work when they feel something isn't right. Loy Clark was working as a NW Natural subcontractor at the Reser Stadium job site.
Hoffman Construction's GUTS Champion award, which stands for Get Us There Safe, serves as a reminder to get everyone home safely. Recipients of the GUTS Champion award must be nominated, and the nomination must be approved by several project superintendents who must all agree that the nominee's actions went above and beyond their normal job description and that their actions saved one or more people from being hurt.
Based in Tualatin, Oregon, Loy Clark Construction is part of the MDU Resources family of companies.