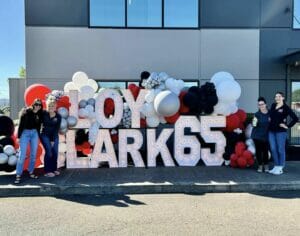 Loy Clark Construction recently celebrated its 65th year in business. In honor of this milestone, the company held an open house with employees, customers and vendors.
Loy Clark also celebrated by giving back to the community, and employees played a role in determining which charities to support. From six charities, employees voted for their favorite, with Loy Clark donating to the top three picks.
Loy Clark Construction and MDU Resources Foundation donated $5,000 to each of the following charities:
OHSU Doernbecher Children's Hospital.
Wounded Warrior Project.
Juliette's House.

Fun facts about Loy Clark Construction:
Founded in 1957 as the Loy Clark Pipeline Company, it was the first pipeline construction company in Oregon.
Founder Loy S. Clark brought the first natural gas lines into Portland, Oregon, in 1957.
The company is licensed in Oregon, Washington, California, Idaho and Montana.
Loy Clark Construction was one of the first companies to use horizontal directional drilling, which is now the primary method to install conduits and pipe for electrical, communication and natural gas industries.
Loy Clark Construction is part of MDU Construction Services Group.