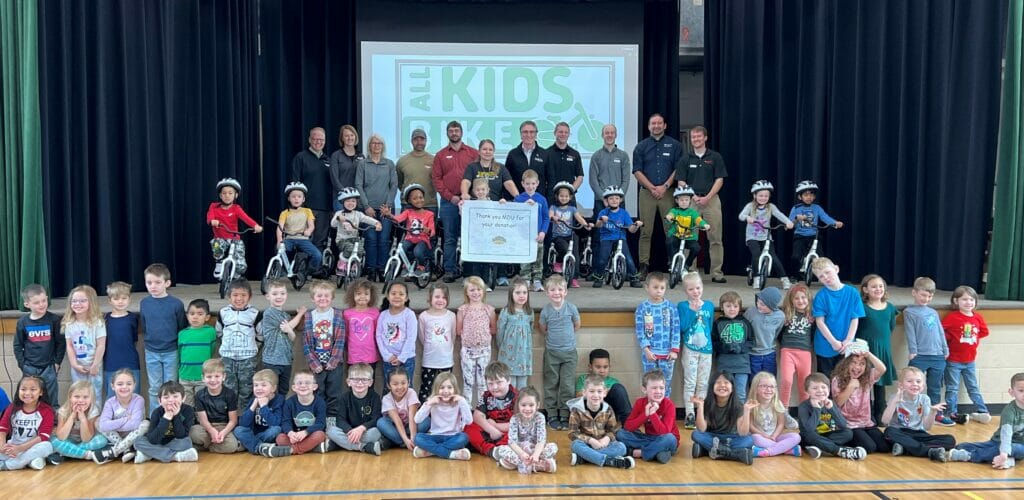 Learning to ride a bike is a rite of passage for many kids. Unfortunately, not all kids have access to a bike, or the temptation to be in front of a screen keeps them off the bike they own. According to the Wall Street Journal, only one in four kids will ride a bike this year.
The MDU Resources Foundation partnered with All Kids Bike to bring the Learn-to-Ride program to kindergarten students at Northridge Elementary in Bismarck, North Dakota. The students will learn to ride a bike as part of their physical education curriculum.
By teaching kids to ride a bike in school, All Kids Bike is getting as many kids on bikes as possible, as early as possible. The All Kids Bike Kindergarten PE Program boasts an inclusive, proven Learn-To-Ride curriculum that offers every child the opportunity to experience the joy of two wheels.
Through the foundation's funding, Northridge Elementary received the Learn-to-Ride curriculum, teacher training, a fleet of Strider Balance Bikes, pedal-conversion kits and helmets. All the materials will be used for upcoming kindergarten classes for the next seven to 10 years.
The All Kids Bike Kindergarten PE Program was launched at Northridge Elementary Nov. 31 with an exciting bike reveal, an introduction of the Learn-To-Ride Program to students, and a presentation with North Dakota Gov. Doug Burgum and Cory Fong, director of MDU Resources Communications and Public Affairs. Northridge Elementary is the first site in Bismarck to offer this program.
Before the bike reveal, 10 employees with MDU Resources, MDU Construction Services Group and Montana-Dakota Utilities assembled 24 Strider bikes.
All Kids Bike is a national movement to place kindergarten PE Learn-To-Ride programs into public schools, using donations from individuals, businesses and organizations. Launched in March 2018, there are already over 700 schools across all 50 states teaching thousands of children how to ride.