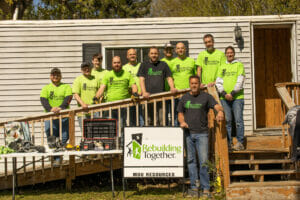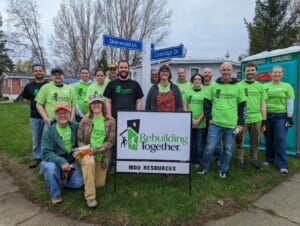 Bismarck-Mandan employees and family members volunteered at the annual Rebuilding Together event in the community. Over two weekends, a total of 21 employees representing MDU Resources and Montana-Dakota Utilities shared their time and talents to fix and improve various items at two homes.
This year, MDU Resources sponsored two of the 18 projects Rebuilding Together Bismarck-Mandan took on.
MDU Resources employees Shane Wothe, manager of enterprise endpoints and technical services, and Mark Haag, manager of project Maximo and process improvement, served as house captains.
Rainy weather didn't stop the team during the first weekend
During the first weekend, volunteers made repairs to the home of an elderly disabled person. The largest part of the project was to relevel the front porch and rebuild the existing set of entry stairs, which were falling apart and creating a safety hazard for the homeowner. Smaller repairs done by the team ranged from repairing window screens to replacing flooring to caulking windows and many other tasks.
Cold, rainy weather on the first day did not hinder the volunteers' dedication or efforts.
"I'm so grateful that the volunteers did not let the rain stop them from completing our work," Wothe said.
Second weekend aided by multi-day volunteers and sunshine
The next weekend brought about warmer weather for volunteers, who had a long to-do list to tackle at the second house. The tasks included lawn/yard care, painting walls and cabinetry, replacing flooring and subflooring and much more.
Haag said the volunteers for the second house worked hard and tackled the large to-do list, as well as unforeseen repairs that needed to be made to the home.
"Many of the volunteers from MDU Resources and Montana-Dakota were multi-day helpers," Haag said. "Shane and I would like to thank them for sticking with it and pushing through to the end."
Rebuilding Together of Bismarck-Mandan is a nonprofit that helps elderly and disabled low-income homeowners stay warm, safe and dry by making essential repairs to their homes.