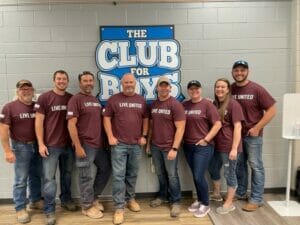 Montana-Dakota Utilities Black Hills Region employees recently volunteered at The Club for Boys in Rapid City, South Dakota, during the United Way of the Black Hills' Month of Caring.
The Club for Boys provides a safe, caring environment and positive experiences that help boys develop self-esteem and character.
Montana-Dakota's eight-person volunteer team completed the following projects at The Club:
Replaced 17 outdated network cameras with new camera units.
Installed 14 eye bolts in the gym.
Glued acoustic tiles to the ceiling of the den.
Painted the computer room and reading nook in the library.
"We appreciate the opportunity to give back and take great pride in our company's commitment to our community," Katie Good, Montana-Dakota senior energy services representative and employee volunteer, said. "Our team has worked with The Club for Boys for many years during the Month of Caring and appreciates the partnership we have fostered."
Good said the employees' four hours of volunteer labor coupled with the donation from Montana-Dakota to United Way is an immense contribution to The Club.