Recent historic flooding of the Yellowstone River impacted many residents of Carbon County in Montana. The MDU Resources Foundation, in partnership with business units Montana-Dakota Utilities Co. and WBI Energy, donated $15,000 to The Red Lodge Area Community Foundation.
This donation will support the Carbon County Disaster Relief Fund to help residents safely return to their homes or to mitigate an unhealthy home situation caused by the flooding.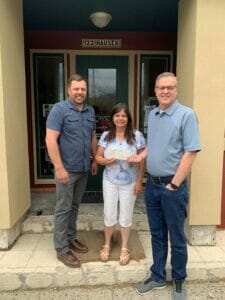 Tracy Timmons (center), executive director for The Red Lodge Community Foundation, received the check from Brandon Lance (left), Montana-Dakota regional director, and Mark Vinger (right), Montana-Dakota district operations manager, both located in Billings, Montana.