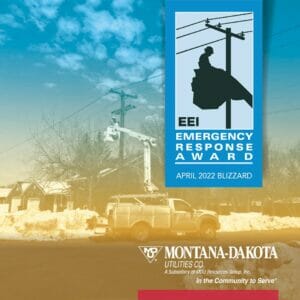 Montana-Dakota Utilities was announced as an Edison Electric Institute (EEI) Emergency Response Award recipient. Presented to EEI member companies, the Emergency Response Awards recognize recovery and assistance efforts of electric companies following service disruptions caused by extreme weather or other natural events.
The winners were chosen by a panel of judges following an international nomination process, and the awards were presented during EEI 2022, EEI's annual thought leadership forum.
"Over the past year, electric companies confronted severe storms and extreme weather events, including hurricanes, tornadoes, and winter storms, that impacted customers and communities across the nation," said EEI President Tom Kuhn. "Despite challenging conditions, Montana-Dakota and its employees worked to restore power safely and as quickly as possible following a late April blizzard. I congratulate and applaud Montana-Dakota and their employees for their continued dedication to the customers and communities that they serve, and I am honored to present them with this well-deserved award."
Montana-Dakota's service territory was hit with widespread power outages and unprecedented damage to its electric system from the storm. Rain that turned to a thick ice coating on powerlines coupled with wind gusts that pushed 60 mph in some areas was the main culprit. Outage restorage spanned eight days.
"We had 18,000 customers without service at the peak of the event. We had 100 linemen working to replace approximately 150 power poles and repair 350 crossarms, as well as the associated ridge irons, braces, pins, insulators and wire," said Eric Martuscelli, vice president, field operations. "This was a team effort from day one. We were able to restore power faster than anticipated which is a testament to the hard work of our employees."