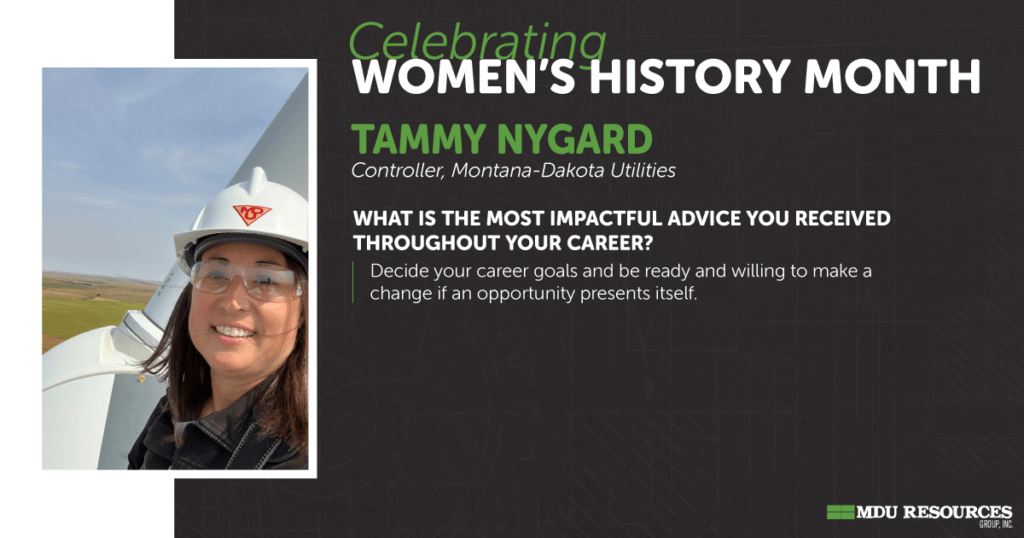 Throughout the MDU Resources family of companies, women fill many roles in the field and in the office. March is Women's History Month, an opportune time for us to shine the spotlight on some of our female employees, their contributions and how they're challenging career stereotypes. 
You might say the energy industry is a family affair for Tammy Nygard, controller with Montana-Dakota Utilities.
Both of her parents worked at power plants when she was growing up. So, when it came time to determine an industry to start her accounting career, the energy industry was at top of the list.
"I had great experiences with the energy industry because of my parents, and I knew I wanted to work for a utility," Nygard said.
She started her career at Montana-Dakota Utilities in a professional development program, rotating between departments. Over the years, she expanded her experience by taking on different roles like financial analyst and director of Accounting and Finance, eventually becoming the controller, the position she currently holds.
"Montana-Dakota Utilities is a great company to work for, with endless opportunities for growth," Nygard said.
She encourages girls to think about a career in the energy industry. "Go for it! It's a very stable business to be in, as electricity and natural gas are essential to America."