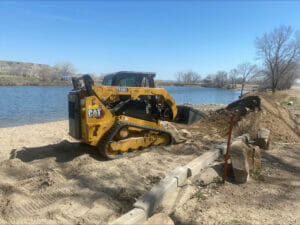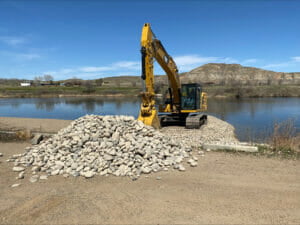 WBI Energy employees in Glendive, Montana, recently helped prepare a nearby fishing pond and swimming area for upcoming summer visitors. Hollecker Lake near Glendive is a community fishing pond that features a public beach area for swimming and relaxing in the sun.
"Hollecker Lake is a great place to take the entire family to fish and swim, and is very popular in the summer," Dave Linn, WBI Energy senior engineering and project manager, said.
Recognizing the fishing pond needed some TLC, the Glendive chapter of Montana Walleyes Unlimited applied for and received a Community Pond Program Grant from the Montana Fish, Wildlife & Parks.
WBI Energy helped the local Walleyes Unlimited chapter meet the grants' matching funds requirement by providing heavy equipment and equipment operators. This in-kind donation was used to repair erosion along the lake's shoreline and add more sand to enhance the beach area.
"WBI Energy has many employees who are members of Walleyes Unlimited," Linn said. "These members very much appreciate the company's support for our local chapter and for helping us meet the grants' local matching funds requirement."