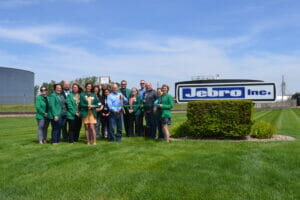 Jebro, Inc. celebrated its 50th year in business with an open house May 19 at its Sioux City, Iowa, terminal. Customers, vendors, suppliers and employees' family members attended the open house. Many visitors toured the office and terminal.
"A special thank you to all the customers, vendors, suppliers and people who have worked with or for Jebro over the last 50 years. We are successful because of them," Noel Schulz, vice president of Marketing, said.
Bob Cheever, president, said, "We're proud to be part of the community for 50 years and we look forward to 50 more."
Jebro, Inc. was established in 1972 in Sioux City, Iowa. MDU Resources Group acquired Jebro in 2005.
Jebro manufactures, tests and ships quality liquid asphalt materials from four terminals located in Sioux City, Iowa; Corson, South Dakota; Cheyenne, Wyoming; and Waco, Texas.
The liquid asphalt is supplied to contractors and public agencies for use in highway and street construction and the road maintenance industries. Jebro also has a division dedicated to collecting used oil, oil filters, antifreeze, and other petroleum materials in five nearby states. Everything collected is recycled or reprocessed for use as industrial fuel.