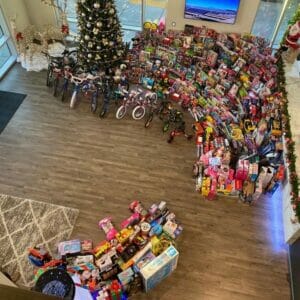 Employees at Bombard Electric in Las Vegas, Nevada, opened their hearts and their wallets to raise almost $4,000 to purchase toys and gifts for less fortunate families in the area. Their efforts were in support of the 23rd annual 98.5 KLUC Chet Buchanan Show Toy Drive.
Bombard employees used the money they raised to purchase and donate the following items to the Chet Buchanan Show Toy Drive:
Eight large crates full of toys;
39 bikes and scooters; and
$340 in gift cards.
The Chet Buchanan Show noted the efforts of Bombard employees and mentioned them on the radio. This year, the Chet Buchanan Show Toy Drive gathered enough items to provide gifts to more than 1,800 qualified families around Nevada.
"It's so amazing to see the generosity from our employees," Jamie Makue, purchasing assistant at Bombard Electric who coordinated the company's efforts, said. "Many of us don't know how many lives we touch just by giving one toy, one bike or one gift card. To say that we are part of the reason more than 1,800 families get to have a good Christmas just warms my heart."

Bombard Electric employees raised almost $4,000 for a regional toy drive. They then purchased eight large crates of toys (right), 39 bikes and scooters and $340 in gift cards.